2017 Love the Arts Pass
One of our best values ever—10 great concerts for one low price.
Here's how it works:
Purchase your Love the Arts Pass for $50—a $300 value!
Reserve a ticket (yes, a real, actual ticket) for any or all of the 10 featured concerts through our online reservation system.
Confirm your reservation (we'll send an email two weeks before the concert).
Pick up your ticket at our will-call desk at the concert.
Hear more great music than ever before!
Which concerts are included?
From string quartets to piano recitals, from all-Bach to Ligeti, there is something for everyone. All concerts take place from October through December 2017 at the Kimmel Center's Perelman Theater and other intimate venues in Philadelphia. Attend as many of these events as you like, and discover what PCMS is all about!
Alisa Weilerstein, cello & Inon Barnatan, piano
Monday, October 16, 2017 - 8:00 PM - Perelman Theater
Mendelssohn: Cello Sonata in D Major, Op. 58
Debussy: Cello Sonata
Mackey: Cello Sonata TBA [Philadelphia Premiere]
Chopin: Cello Sonata in G Minor, Op. 65
Dover Quartet w/ Richard Woodhams, oboe
Friday, October 20, 2017 - 8:00 PM - Perelman Theater
Tchaikovsky: Quartet in D Major, Op. 11
Bolcom: Serenata Notturna
Bartók: Quartet No. 1
Schumann Quartet w/ Gilbert Kalish, piano
Tuesday, October 31, 2017 - 8:00 PM - Perelman Theater
Haydn: Quartet in G Major, Op. 33, No. 5
Schumann: Quartet in F Major, Op. 41, No. 2
Shostakovich: Quintet in G Minor, Op. 57
Modigliani Quartet
Thursday, November 9, 2017 - 8:00 PM - Perelman Theater
Puccini: I Crisantemi
Brahms: Quartet in C Minor, Op. 51, No. 1
Saint-Saëns: Quartet in E Minor, Op. 112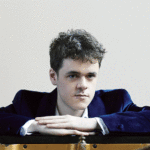 Benjamin Grosvenor, piano
Friday, November 10, 2017 - 8:00 PM - Perelman Theater
Bach: French Suite in G Major, BWV 816
Brahms/Dean: Four Pieces, Op. 119/Hommage à Brahms
Debussy: L'Après midi d'un faune [Arr. Borwick/Copeland]
Berg: Piano Sonata, Op. 1
Ravel: Gaspard de la nuit
Stefan Jackiw, violin & Anna Polonsky, piano
Sunday, November 12, 2017 - 3:00 PM - Perelman Theater
C. Schumann: Three Romances, Op. 22
Brahms: Violin Sonata in D Minor, Op. 108
Fulmer: They Turned Their Channeled Faces...
Brahms: Violin Sonata in G Major, Op. 78
Musicians from Marlboro I
Wednesday, November 15, 2017 - 8:00 PM - Perelman Theater
Ligeti: Six Bagatelles
Beethoven: Quintet in E-flat Major, Op. 16
Barber: Summer Music, Op. 31
Poulenc: Sextuor
Momenta Quartet
Sunday, November 19, 2017 - 3:00 PM - Philosophical Society
Poll: Quartet TBA [World Premiere/PCMS Commission]
Singleton: Quartet No. 3, Somehow We Can
Fernández: Quartet No. 2, Sin tiempo [Philadelphia Premiere]
Schulhoff: String Sextet
Hanchien Lee, piano
Friday, December 1, 2017 - 8:00 PM - Philosophical Society
Scarlatti: Piano Sonatas, K. 128/87/455/427
Beethoven: Fantasy in G Minor, Op. 77
Beethoven: Piano Sonata in E-flat Major, Op. 27, No. 1
Hsu: Rhapsody Tocatta [Philadelphia Premiere]
Schumann: Faschingsschwank aus Wien, Op. 26
Gamut Bach Ensemble
Wednesday, December 13, 2017 - 8:00 PM - Church of the Holy Trinity
Bach: Du wahrer Gott und Davids Sohn, BWV 23
Bach: Selected arias
Bach: Widerstehe doch der Sünde, BWV 54
Bach: Schwingt freudig euch empor, BWV 36
This sounds great. Are there any restrictions?
To confirm your attendance at each concert, we will send a confirmation email two weeks before the date of the concert. You must confirm your reservation to attend the concert. Due to limited seating, if you fail to confirm a reservation, we will assume that you cannot attend (it's cool, plans change) and release your ticket(s) to ensure that others can enjoy the concert. If you reserve within two weeks of the concert, no confirmation is necessary. Thank you for your cooperation!
Also, we're sorry, but you can't transfer your tickets or your pass to your friends. However, you can share news about this great deal with your friends so that they can come with you.
If you have any questions, simply call our box office (215-569-8080) or e-mail Michelle Shirk at 
[email protected]
.