Clemens Hagen, cello and Kirill Gerstein, piano
Salzburg-born cellist Clemens Hagen is best known as a member of the esteemed Hagen Quartet, yet his chamber music and recital collaborations extend well beyond his eponymous group. For this all-Beethoven recital, he shares the Perelman Theater stage with Gilmore Artist Award winner Kirill Gerstein—"one of the most respected pianists of his generation" (New York Times)—in a match of consummate artists.
Beethoven: Variations on a theme from The Magic Flute
Beethoven: Cello Sonata in G Minor, Op. 5
Beethoven: Cello Sonata in C Major, Op. 102, No. 1
Beethoven: Cello Sonata in D Major, Op. 102, No. 2
This performance features a free pre-concert lecture starting at 6:45 PM with Karl Middleman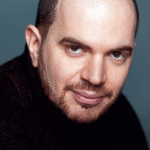 The multifaceted pianist Kirill Gerstein has rapidly ascended into classical music's highest ranks.  With a masterful technique, discerning intelligence, and a musical curiosity that has led him to explore repertoire spanning centuries and styles, he has proven to be one of today's most intriguing and versatile musicians. His early training and experience in jazz has.
View full bio
Cellist Clemens Hagen comes from a musical family in Salzburg and began to learn the cello at the age of six.  Two years later he started to study at the Mozarteum University  and then transferred to the Conservatory in Basel. Wilfried Tachezi and Heinrich Schiff were two of his teachers. In 1983 Clemens Hagen was awarded the special prize of the Vienna Philharmonic.
View full bio
Address: 300 South Broad Street
Philadelphia, PA 19102
The Perelman Theater is part of the Kimmel Center for the Performing Arts, located on the southwest corner of Broad and Spruce Streets in Center City Philadelphia. The smaller of the two concert halls in the Kimmel Center, the Perelman Theater is a 627-seat auditorium with seating on the plaza, plaza tier, first balcony, and second balcony levels.  All…
more info