ECCO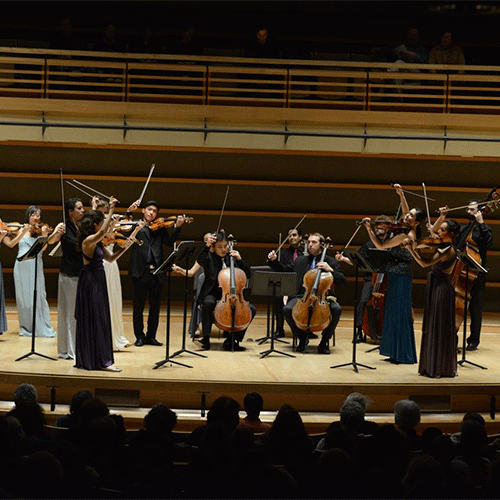 PCMS's annual collaboration with ECCO features seventeen leading soloists and chamber musicians of today's younger generation (many of whom are principals in major American orchestras as well as leaders of internationally renowned quartets). This "exciting, conductor-less band of strings" (New Yorker) combines the power and expansiveness of a great orchestral ensemble with the personal involvement and spontaneity of chamber music. Of note on this program is Bartók's Divertimento for Strings, which marries the style of the Baroque concerto grosso to Hungarian folksong melodies. Written in 1939, its sunny disposition does not reflect the troubled political context of its composition; the piece was written two weeks before Nazi Germany invaded Poland, which signaled the beginning of World War II.
Bermel: Murmurations [Philadelphia Premiere]
Shostakovich: Quartet No. 8, Op. 110a [Arr.]
Dvořák: Nocturne in B Major, Op. 40
Bartók: Divertimento for Strings
This performance features a free pre-concert lecture starting at 6:45 PM with Ross Amico
The critically acclaimed East Coast Chamber Orchestra (ECCO) is a collective of dynamic like-minded artists who convene for select periods each year to explore musical works and perform concerts of the highest artistic quality. Drawing from some of the world's finest orchestras, chamber groups, and young soloists, ECCO strives for vitality and musical integrity; a.
View full bio
Address: 300 South Broad Street
Philadelphia, PA 19102
The Perelman Theater is part of the Kimmel Center for the Performing Arts, located on the southwest corner of Broad and Spruce Streets in Center City Philadelphia. The smaller of the two concert halls in the Kimmel Center, the Perelman Theater is a 627-seat auditorium with seating on the plaza, plaza tier, first balcony, and second balcony levels.  All…
more info