Momenta Quartet w/ Samuel Rhodes, viola and Marcy Rosen, cello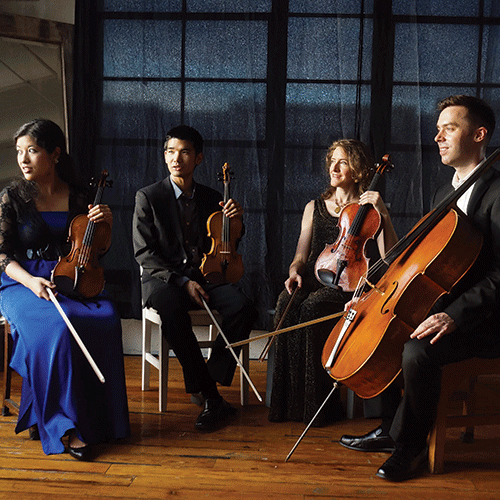 Making its PCMS debut, the Momenta Quartet is an ensemble that champions contemporary music while remaining committed to the classics. The NYC-based group performs and records widely and has commissioned several quartets, two of which are included on this program: a world premiere by recent Curtis Institute graduate Teddy Poll and Sin tiempo, a lush and energetic work by Bolivian-British composer Agustín Fernández.
Poll: Quartet [World Premiere/PCMS Commission in honor of Robert Capanna]
Singleton: Quartet No. 3, Somehow We Can [Philadelphia Premiere]
Fernández: Quartet No. 2, Sin tiempo [Philadelphia Premiere]
Schulhoff: String Sextet
This concert is supported by The Presser Foundation.
Momenta: the plural of momentum – four individuals in motion towards a common goal. This is the idea behind the Momenta Quartet, whose eclectic vision encompasses contemporary music of all aesthetic backgrounds alongside great music from the recent and distant past. The New York City-based quartet has premiered over 100 works, collaborated with over 120.
View full bio
Samuel Rhodes has been a member of both the Juilliard String Quartet and the faculty of the Juilliard School for over 40 years. He has served on the faculty of the Tanglewood Music Center, and has been a participant in the Marlboro Festival since 1960. Rhodes has appeared as a guest artist with many ensembles.
View full bio
Los Angeles Times music critic Herbert Glass has called cellist Marcy Rosen "one of the intimate art's abiding treasures." She has performed in recital and with orchestra throughout Canada, England, France, Japan, Italy, Switzerland, and all fifty of the United States. She made her concerto debut with the Philadelphia Orchestra at the age of 18 and has since.
View full bio
Address: Benjamin Franklin Hall
427 Chestnut Street
Philadelphia, PA 19106
Benjamin Franklin Hall is a 375 seat auditorium offering plaza level and balcony seating.  All concerts at this venue are general admission seating.  Doors open 30 minutes prior to the performance. There are many historic elements to the building.  Designed in the Italianate style, it features a visually striking white marble façade and an impressive collection of paintings.…
more info